Tour in Kazbegi (1 Day)
Tour with Minivan With a group of 6 people, the cost of the tour for 1 person is  $ 20
Gergeti Trinity Church in Kazbegi (or Stepansminda as that's the official name).
The church was built in the 14th century and has a separate bell tower,
inside you can find some old frescoes as well as the newer addition to the interior.
In the turbulent times, the precious relics from Mtskheta were brought to
Gergeti Trinity Church to keep them safe.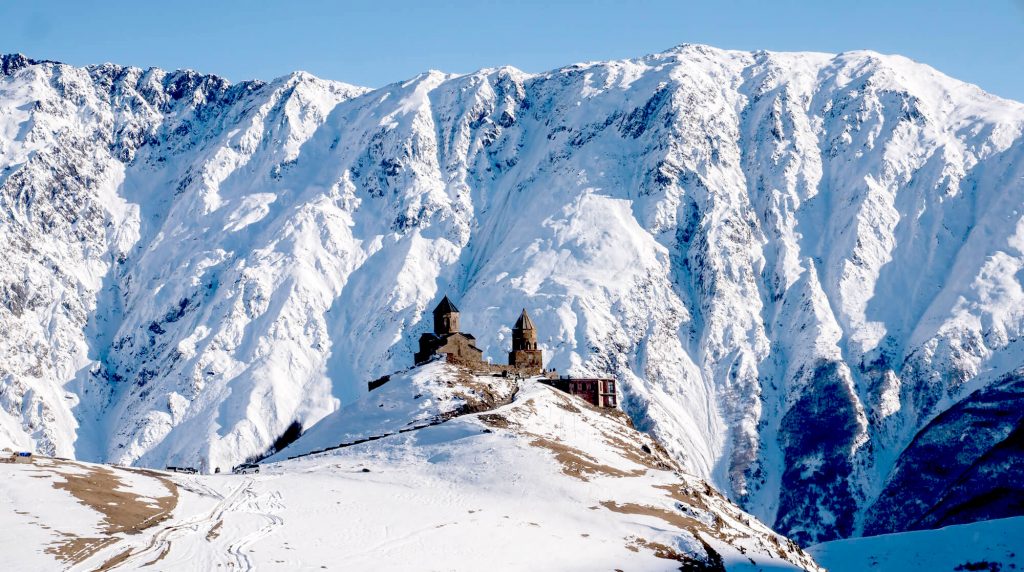 While the church itself is a beautiful example of the medieval sacral architecture
in Georgia, the main reason to come here
is the breathtaking view over the Caucasus mountains,
including the famous Mount Kazbek – the third-highest peak in Georgia.
It is believed that in the mythology Prometheus was chained to this mountain
for stealing the fire from gods and giving it to people.
Gergeti Trinity Church and the surrounding panorama is a truly remarkable place,
probably the most spectacular one you can visit in Georgia but there are a few
more fabulous stops along the way that will make this day trip from Tbilisi
an unforgettable one. Not to mention the road itself – the famous Georgian
Military Highway is one of the most scenic roads you will ever see so
be sure to score a window seat.
Almost halfway from Tbilisi to Kazbegi you should stop at Ananuri
the fortress complex originally built in the 13th century. Not only this is a
wonderful place but it also has a picturesque location at the shore
of Lake Schinvali, with green rolling hills around.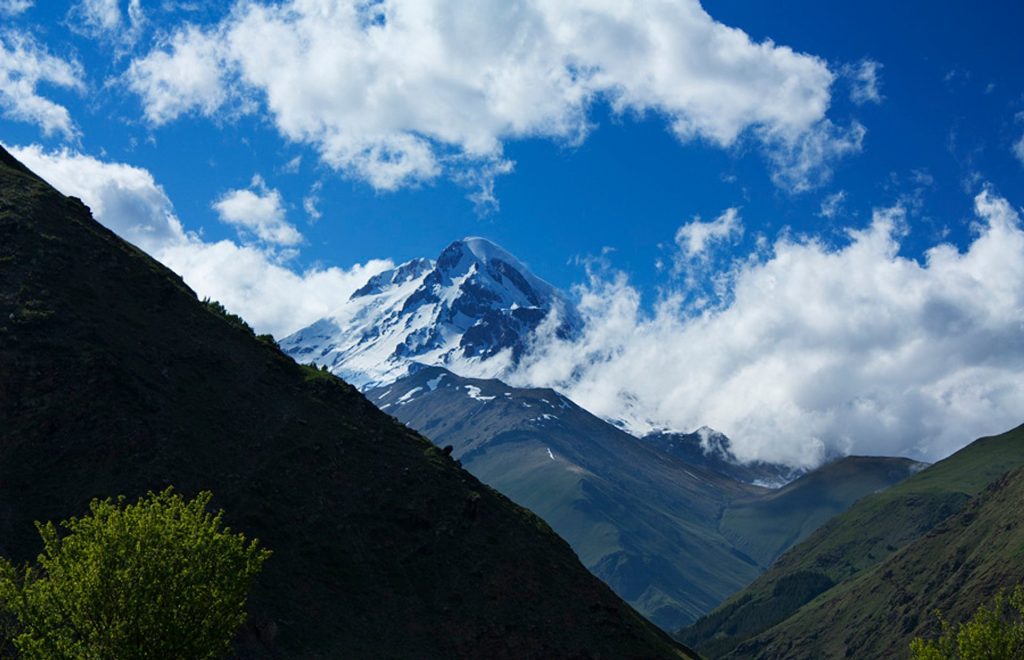 Another picturesque stop is at the Russia–Georgia Friendship Monument
(known also as Gudauri View Point) – a masterpiece of Soviet art located literally in the middle of nowhere.
The concrete structure from 1983 is placed above the Devil's Valley and is known
for its beautiful Soviet mosaic, showing the history of both Georgia and Russia.
But even if you are not a fan of Soviet art you will appreciate the
place for the mindblowing views of the Caucasus mountains.
The duration of the excursion is 8 hours.
The excursion price includes:
English speaking guide / driver
Transport service
Water in the car
NOT INCLUDED:
Organization of additional meals: lunch and dinner
Tour with Jeep
https://fstarentcar.com/driver/990/
| | | | | |
| --- | --- | --- | --- | --- |
| Number of people on the tour | 1 | 2 | 3 | 4 |
| Tour cost  for 1 person (USD): | 150 | 75 | 50 | 35 |
Tour  with  Sedan
https://fstarentcar.com/driver/bmw-f10/
| | | | | |
| --- | --- | --- | --- | --- |
| Number of people on the tour | 1 | 2 | 3 | 4 |
| Tour cost  for 1 person  (USD): | 120 | 60 | 40 | 30 |
Tour with Minivan
https://fstarentcar.com/driver/saxeli-8/
| | | | | | | |
| --- | --- | --- | --- | --- | --- | --- |
| Number of people on the tour | 1 | 2 | 3 | 4 | 5 | 6 |
| Tour cost  for 1 person  (USD): | 120 | 60 | 40 | 30 | 25 | 20 |