A Guide to Kutaisi's Must-See Attractions by Car: Renting and Exploring Made Easy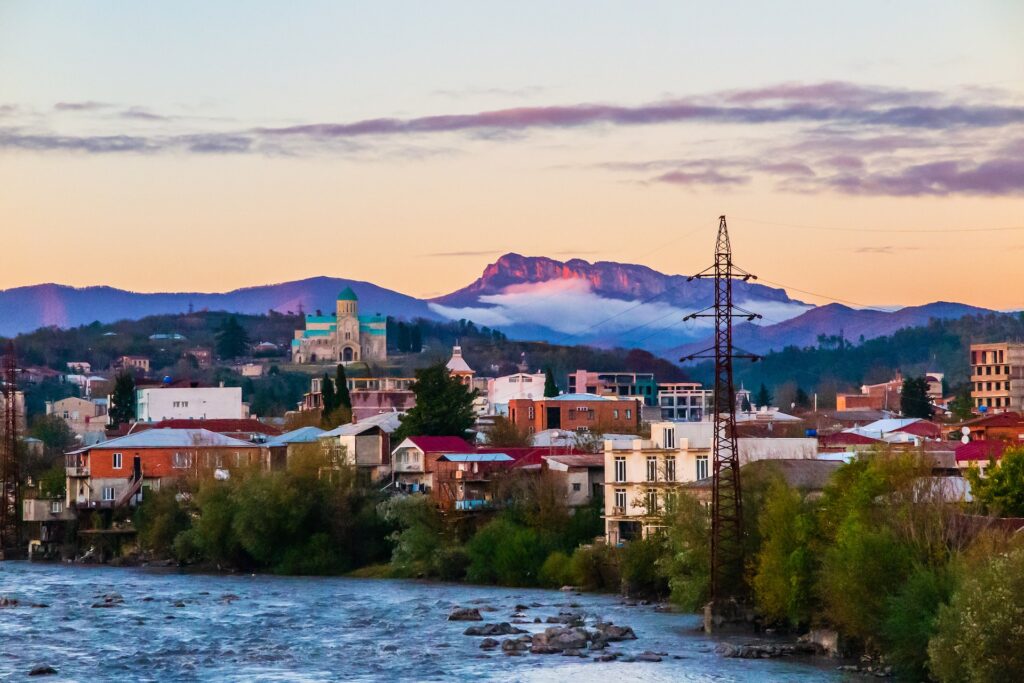 The third-largest city in Georgia, Kutaisi, is a historical and cultural treasure in the Imereti area. With a history spanning over three thousand years, this fantastic city presents a singular fusion of historic buildings, a buzzing urban vibe, and breathtaking natural surroundings. Kutaisi has experienced a surge in demand for practical transportation alternatives due to its rising tourist attractiveness, making car rental services a popular option for discovering the city and its various attractions.
10 Attractions in Kutaisi
With a rental car, you can travel in Kutaisi at your own pace while exploring its many natural attractions.
Car rental in Kutaisi
can help you explore ten must-see sights in Kutaisi listed below, each of which becomes more enjoyable with the independence and adaptability of a rental car:
Bagrati Cathedral
A UNESCO World Heritage Site, This architectural marvel from the 11th century provides breathtaking sights of the city and the surrounding countryside. The cathedral is on a mountaintop with sweeping views over the Rioni River, the city, and the surrounding countryside. The cathedral's distinctive design incorporates Georgian and Byzantine architectural elements to represent Georgia's rich cultural legacy.
Gelati Monastery
Another UNESCO World Heritage Site, is a significant cultural and educational hub that exhibits beautiful murals and complex mosaics. The Gelati Monastery's lavish interior decoration boasts remarkable murals, mosaics, and exquisite stone sculptures is one of its most striking aspects. The frescoes from the 12th to the 17th century feature numerous religious scenes, historical personages, and representations of the royal family. As one of the few intact examples of Byzantine mosaic art in Georgia, the mosaic in the apse of the main cathedral is particularly noteworthy.
Prometheus Cave/Kumistavi Cave
Explore this breathtaking natural wonder's depths to admire its extraordinary stalactites and stalagmites formations. In addition to the walking tour, there's an opportunity to take a unique boat ride in the lowest portion of the cave's underground river. This little trip gives you a new perspective on the cave's natural beauty and ups the adventure element of your overall experience.
Okatse Canyon
After taking a picturesque drive to this majestic canyon, you can travel a glass walkway suspended above the green valley below. In addition to the stunning pathway, Okatse Canyon provides a variety of outdoor activities for nature enthusiasts and adventure lovers, such as hiking, birdwatching, and photography. Many endemic species of plants and animals reside in the area surrounding the canyon, making it a fantastic place to visit if you're interested in Georgia's distinctive natural heritage.
Sataplia Nature Reserve
Sataplia is a must-visit location for nature enthusiasts and history buffs because it is home to fascinating dinosaur tracks and an enchanting cave system. The word "Sataplia" is a translation of the Georgian word "სათაფლიანი" (stapling), which means "place of honey." The place's name comes from the numerous beehives in the reserve's limestone cliffs.
Sairme Mineral Springs
Sairme, a well-known spa resort known for its mineral springs with therapeutic powers, is only 55 kilometers from Kutaisi. Renting a car simplifies visiting this tranquil resort for a relaxing day trip.
Imereti Wine Route
The Wonderful option to discover Georgia's distinct wine area at your leisure can be easy via The Imereti Wine Route. You may go between nearby wineries with a rental car, allowing you to see the vineyards, discover the traditional Georgian winemaking process, and taste various wines. Many of these wineries also serve regional food, giving visitors a genuine taste of Imereti's culinary heritage.
Colchis Fountain
The unique modern attraction is located in Kutaisi and represents the very heart of the city. The fountain features 30 bronze statues portraying various objects from the former Colchis kingdom.
Kutaisi Historical Museum
The museum is home to many ethnographic artefacts, archeological relics, and works of art that illustrate the rich history of Kutaisi and the surrounding regions.
Tskaltubo Spa Resort
Tskaltubo is a renowned spa resort town with natural mineral springs and therapeutic pools, 9 kilometres from Kutaisi. Since ancient times, the healing powers of the mineral-rich waters of Tskaltubo have drawn travellers seeking relaxation and renewal.
Why should you rent a car in Kutaisi?
For several reasons, driving around Kutaisi's attractions dramatically improves the experience: Flexibility: You may plan your route and explore the sites with a rental car. You'll be free to spend as much or as little time at each location as you want because you won't depend on public transportation schedules or guided tour timetables. Access to remote locations: The Okatse Canyon and The Kinchkha Waterfall, two of Kutaisi's most breathtaking sights, are situated in outlying areas with limited access to public transportation. A rental car allows you to access these off-the-beaten-path locations with a rental car and take in all of their beautiful scenery. Privacy and convenience: Compared to packed buses or tour groups, renting a car offers a more relaxing and private experience. You can leisurely take in the gorgeous roads between destinations, stopping anytime you want to take pictures or have a picnic. Overall, renting a car while visiting Kutaisi's must-see attractions is an excellent way to maximise your trip because it gives you flexibility, convenience, access to isolated areas, comfort, privacy, time efficiency, and the chance to discover hidden gems. Tourists trust FSTA car rental because of the company's strong reputation for offering top-notch customer service, well-maintained cars, and affordable rates.
FSTA Rent Car
provides a broad range of vehicles to meet various preferences and demands. The company is aware of the different needs and preferences of customers. The professional and knowledgeable staff goes above and beyond to guarantee a smooth rental experience and offers helpful pointers and advice on exploring the region.
The final note
Tourists looking for dependable and hassle-free transportation in Kutaisi have come to rely on FSTA Rent Car thanks to its transparent pricing, comfortable booking process, and dedication to client satisfaction. In addition to car rental services in Kutaisi, FSTA also provides
car rental in Batumi
, offering convenient transportation solutions for exploring the vibrant city and its surroundings. Book a rental car and explore the fantastic city of Kutaisi on your terms, at your own pace.