Museums in Mtskheta-Mtianeti
You may see all the sightseeing in Mtskheta-Mtianeti region here www.fstarentcar.com/mtskheta-mtianeti
FSTA Rent Car Company is here for you to choose the right car for visiting Mtskheta Region. See the links of FSTA Cars www.fstarentcar.com/cars
Korsha Etnographical Museum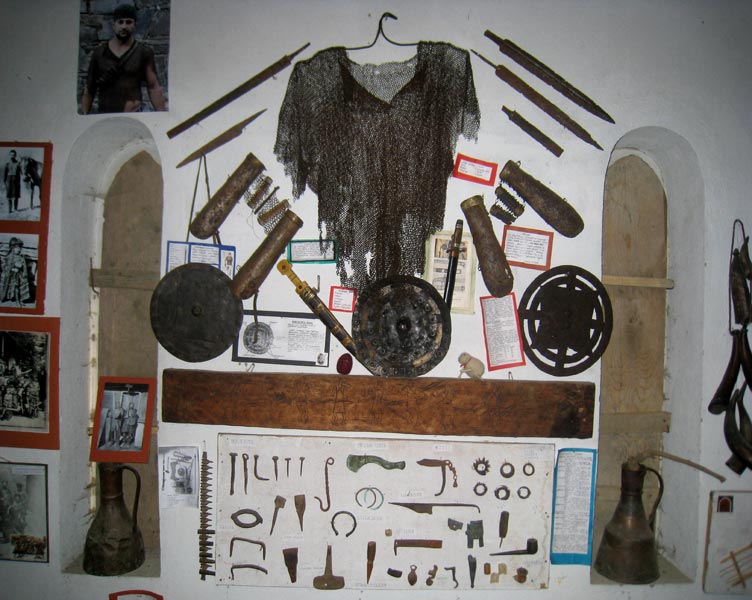 The museum houses collections of ethnographical items which reflect life of Khevsureti inXVIII-XIX cc. There are: Khevsuretian men's and woman's clothes, weapons and agrarian work tools, furniture, vessels and also photo materials, paintings of Shota Arabuli (director of museum).
Working hours: everyday, 11.00 – 16.00
Ticket price: Free
Address: village Korsha, Dusheti
Ilia Chavchavadze Saguramo State Museum
The museum houses memorial belongings of outstanding Georgian writer and public figure Ilia Chavchavadze (1837-1907), photo portraits of XIX c. representatives of Georgian culture, as well as photographs of everyday life of the époque, manuscripts of the writer, samples of published by him periodicals (Iveria, Sakartvelos Moambe, etc.), several samples of Georgian and foreign fine art (Jaques de Molle enters the Tamplier Order by Garnier,Mazepa surrounded by wolves by Verne, Fear by unknown French painter of the same period, works of well-known Georgian artists Lado Gudiashvili, Ucha Japaridze, Iakob Nikoladze), XVIII-XIX c.c. German decorative and everyday crockery, furniture, etc.
Working hours: Everyday, except Monday, 10.00 – 18.00
Ticket price: Adults - 1 GEL, students and schoolchildren - 1 GEL
Free of charge: Children less than 6 years of age and homeless children, employees of Museums, ICOM members, First and second category disabled persons (with valid identification), soldiers, refugees.
Museum address: 3311, Village Saguramo, Mtskheta district
Tianeti Local Museum

The museum houses collections of archaeological items discovered by the expeditions and accidentally in Tianeti area ( items from Early Bronze Age up to late medieval times), ethnographic material, religious objects and samples of the Four Gospels (manuscripts, printed editions), textile collection (kilims from East Georgia mountainous regions, for ex. Khevsuretian clothes and accessories), medieval ceramic crockery, etc.

Working hours: Everyday, except Monday, 10.00 – 18.00
Ticket price: Free
Address: 17, Rustaveli str. 2500, Tianeti

Vazha-Pshavela House Museum
The museum houses memorial objects connected with life and work of well-known Georgian poet Vazha-Pshavela (1861-1915), ethnographic collection (XIX c. and beginning of the XX c.), various publications of poet's works, also are presented paintings, graphic and sculptures, photographs dedicated to the poet. Museum's branch: Korsha Ethnographical Museum.

Working hours: Everyday, except Monday, 10.00 – 18.00
Ticket price: 0.50 GEL, Guided tours – 5 GEL
Free of charge: Children less than 6 years of age and homeless children, employees of Museums, ICOM members, First and second category disabled persons (with valid identification), soldiers, refugees.
Museum address: 1810, village Chargali, Dusheti district

Dusheti Local Museum
The museum was established in 1949, it houses collections of archaeological items discovered by the expeditions and accidentally in Dusheti area (3000 items from Early Bronze Age up to late medieval times), ethnographic material, textile collection (kilims from East Georgia mountainous regions, folk clothes and accessories), glass and ceramic (including glazed ones) crockery, etc. Branches: Gudani Ethnography Museum (Village Korsha), Daniel Chonkadze House Museum.

Working hours: everyday except Monday, 10.00 – 18.00
Ticket price: Free
Address: 1800, Milakhvriantkari settlement, Dusheti.

Great Mtskheta Archaeological State Museum-Reserve
Museum-reserve includes: several exceptional archaeological exhibits of different historical periods the earliest of which – the agricultural tools dated back by IV millennium BC belonged to ancient farmers; toys of children of prehistoric times (II millennium BC.), precious metal artifacts of the Antique Period marked with highest level of craftsmanship and the perfect samples of the Ancient Greek epigraphy. Besides, tourists will be able to visit ancient burial ground used for the vast period of time - from the II Millennium BC till the VIII-IX cc AD and the settlement remains dated back by VIII-VII cc BC. Other outstanding monuments of Antique Era and early medieval times are as follows: Armaztsikhe-Bagineti- an acropolis of the city of Mtskheta, the royal residence of the rulers of Iberia (III c BC – VIII c AD), Armaziskhevi – the residence of the Pitiakhshis-Eristavs of Kartli and their burial ground and a mausoleum built in the I c. AD at the bottom of a rocky mountain.

Working hours: Everyday, except Monday, 10.00 – 17.00
Ticket price: Adults -3 GEL, school children and students – 1 GEL
Free of charge: Children under 6 years of age and homeless children. Groups: Employees of Georgian and Foreign Museums, ICOM, ICOMOS members (with valid identification), First and second category disabled persons, soldiers, refugees
Museum address: 51, David Agmashenebeli str. 3300, Mtskheta

See next Blog about Kakheti www.fstarentcar.com/kakheti

Museums in Kakheti www.fstarentcar.com/kakheti-museums